Polywood Modern Curveback Adirondack Chair


Pros

Durable

Comfortable

Stylish
Whether you prefer to run your toes through the sand or sit around a crackling campfire, a comfy place to sit is an absolute necessity; you can't relax while being uncomfortable. And when it comes to outdoor furniture, Adirondack chairs have been a staple piece and one of the most iconic outdoor seating options since the early 1900s.
Yet with so many options on the market, Polywood's Modern Curveback Adirondack Chair stands out a notch above the rest, often being called one of the best chairs on the market.
Offering vibrant colors, durable designs, and an unbeatable warranty, Polywood chairs it would be easy to see why they might set the standard for happy expectations, but when actually tested, does the Polywood Modern Curveback Adirondack Chair really stand up to all the hype?
What is Polywood?
For over thirty years, Polywood has prided itself on transforming landfill and ocean-bound plastic into sustainable, durable, outdoor furniture.
Recycling millions of landfill- and ocean-bound plastic containers every year, Polywood furniture is crafted to withstand all four seasons plus extreme weather conditions such as blizzards, strong winds, hot sun, and even ocean salt spray.
Made in the USA from start to finish, Polywood is a homegrown company that is known for standing behind their products.
About the Polywood Modern Curveback Adirondack Chair
Weight: 43 pounds
Overall height: 39.13 inches
Overall width: 31.25 inches
Overall depth: 33.5 inches
Seat height: 16.25 inches
Seat width: 22 inches
Seat depth: 17.5 inches
Weight limit: Up to 400 pounds
Known for their vibrant colors and classic design, Polywood's Adirondack chairs are a wildly popular staple in outdoor seating options.
Bridging the gap between a beachy feel and a cozy night by the fire, the sleek lines and upscale look of the Modern Curveback Adirondack Chair makes it the perfect addition to any outdoor aesthetic.
With an MSRP of $299 per chair, it could be said that the Modern Curveback Adirondack Chair is an investment, because while it may not be the cheapest chair on the market, they are guaranteed to withstand the elements for at least two decades; meaning that you can buy it once, rather than needing new furniture every few years.
And, offering one of the highest weight capacities and longest warranties on the market, it starts to become even clearer what all the hype is about.
Opening the box I braced myself for a tedious assembly, but to my surprise what did require assembly was mostly large pieces.
Taking only 15 minutes and requiring just an L-shaped (included) tool and a wrench (not included), the instructions were easy to follow and the whole assembly didn't require too much muscle power.
What we liked
It's comfortable to sit in
You'll appreciate the Modern Curveback Adirondack Chair's sloped seat and rounded seat edge, which supports your knees, while the gently reclined seat back entices your spine into full relaxation mode; providing just enough curvature to prevent you from feeling as if you are leaning against a wall.
Roomy and oversized, this chair pulls no punches when it comes to ergonomic design, spacious seating width, and head support, all built with a durable, sustainable, frame.
Because the back of the chair also has enough height that an average-height person will be able to rest their head on it, the whole design feels luxurious and upscale.
Also a big bonus are the extra wide armrests, which not only provide a comfortable place to support your upper body, but also save you the back pain of leaning forward towards a table since they offer enough space for a drink or even a plate.
And, when my good friend was over one day and tried out the chair—a friend whose body type is different from mine—she didn't hesitate to enthusiastically insist that I let everyone know that, "it's comfortable for butts of all sizes!"
However, what I think surprised me the most was that even in direct sunlight, I personally did not find the chair's surface temperature heating up to a level that I would anticipate could seriously burn someone; a huge benefit when you have small children around, or just generally appreciate lounging in an intensely sunlit area.
It's sturdy and can handle high-traffic areas
Incredibly sturdy, the Polywood Modern Curveback Adirondack Chair doesn't have a wiggle, wobble, or lean to it, making me believe that the 400lb tested weight limit is more than accurate.
After several weeks of my children climbing all over it, me dragging it back and forth across my patio, and everyday use, it still remains just as solid as when I built it.
A long-time owner of other Polywood products, I can personally attest that my previous pieces have lived through blizzards, tornadic thunderstorms, hail, and heat waves, all without getting so much as a dent or a scratch on them.
Now, after several weeks of testing with the Modern Curveback Adirondack Chair, I can easily say that it is proving to live up to the same high bar; already having been through several storms and intense outdoor temperatures, it still looks as if it just came out of the box.
It's made from eco-friendly materials
It's impossible to sit outside in Mother Nature and not appreciate the earth's beauty and it's what Polywood strives to protect by taking the plastic trash that litters our earth and turning it into something beautiful.
If you're looking for an eco-friendly option for patio furniture, the Curveback Adirondack Chair is a green choice.
What we didn't like
Assembly required
Polywood chairs require a bit more strength to assemble than other patio furniture, which oftentimes comes pre-assembled. That said, the Polywood Adirdondack chair assembled without a hitch. However, I have had previous Polywood chairs that were more difficult to assemble because of screw holes that were not fully drilled out.
My thoughts are that this is an issue that has since been corrected or was a one-batch fluke, but I figured that for full disclosure I would give it a quick mention in case you've had a similar experience with Polywood chairs.
And just to reiterate, the Polywood Adirondack chair is easy to put together.
Warranty
Polywood's warranty guarantees that when used in a residential setting (or three years for commercial use), your Adirondack chair will not "splinter, crack, chip, peel, or rot, or suffer structural damage from insect infestation." Should your Polywood Modern Curveback Adirondack Chair suffer from any of those issues, Polywood will repair or replace the chair for free.
To execute a warranty claim, simply provide a written description of the defect, the chair's serial number or proof of purchase, and photos of the chair (including the damage).
Should you buy the Polywood Modern Curveback Adirondack Chair?
Yes, it's one of the best Adirdondack chairs you can buy.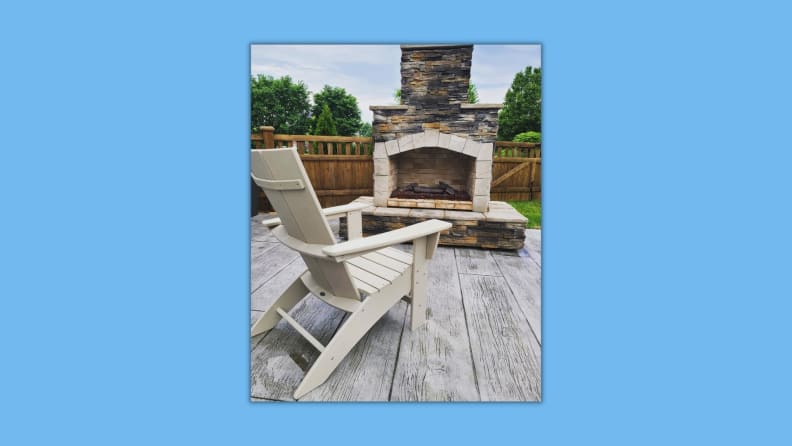 The Polywood Modern Curveback Adirondack Chair offers unbeatable durability and a manufacturing warranty that promises to protect your investment, at a price point that isn't going to break the bank.
Why waste your money buying cheap plastic chairs each year, when you can invest in a chair that promises to last the next two decades, all while maintaining a timeless look and endless comfort?
And should I remind you again that with each Polywood Adirondack chair you buy, you are helping to save planet earth? If there's one guilt free purchase you are going to make this year, make it a Polywood Modern Curveback Adirondack Chair because there is absolutely nothing to regret with this buy.
The product experts at Reviewed have all your shopping needs covered. Follow Reviewed on Facebook, Twitter, Instagram, TikTok, or Flipboard for the latest deals, product reviews, and more.
Prices were accurate at the time this article was published but may change over time.
Polywood Modern Curveback Adirondack Chair


Pros

Durable

Comfortable

Stylish
Related Posts