More
In the final days of summer and for the seventh time since 2015, Flower Piano will once again transform the San Francisco Botanical Garden into the city's own alfresco concert hall where everyone is invited to play and listen. It will take place from 10 am–6 pm beginning on Friday, September 16, and will conclude on Tuesday, September 20.
"Flower Piano is located at that magical intersection of music and nature," said Dean Mermell, co-founder, together with Mauro ffortissimo, of event partner Sunset Piano. "It's a uniquely safe outdoor space where we can be our best as humans, enjoying the Bay Area's finest musicians in the city's most beautiful setting."
Participants are invited to explore the Garden's global living plant collections as they seek out the 12 pianos spread out across the 55-acre living museum. At each of the pianos, there will be scheduled professional performances, open play time for participants, and community partner performances—reflecting a range of genres, ages, and cultures. The experience brings joy, hope, awe, and a deep sense of community. Participants are inspired to become Garden members and enjoy other Garden programs throughout the year.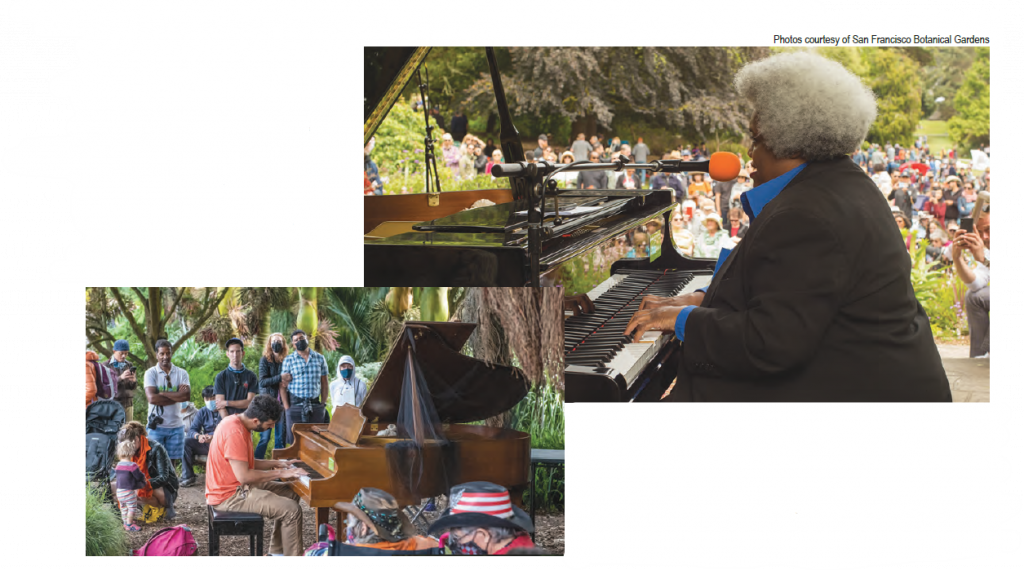 "We are excited to work with our partners at the Recreation and Park Department, Sunset Piano, and all the musicians and community organizations that bring Flower Piano to life, and I am grateful to our sponsors and staff that make this special event happen," said Stephanie Linder, CEO of the Gardens of Golden Gate Park.
New this year is a very special opening event, Fall and Fly, on Wednesday, September 14, from 5–6:30 pm, where a groundbreaking commissioned work created for 12 grand pianos will be performed on the Garden's Great Meadow. San Francisco-based composer Benjamin Gribble has written Fall and Fly, an experimental work
…
Read the rest