When decorating a smaller space it's just as important to learn what not to do as what you should be doing. Knowing what small living room styling mistakes you need to avoid will save you from wasting money, time and energy.
One of the great things about small living room ideas is that many of the design tips are applicable whether you live in an ultra-modern townhouse or quaint country cottage. 
From colourways and pattern choices to lighting and storage, there are plenty of things you should be aware of before you start styling your space. In addition to all of these are, of course, the bigger pieces which help define a living room.
'When furnishing a small room, it's important to consider what purpose each piece provides and what you truly need to create a cosy, stylish, and functional room,' advises Jenna Choate, Co-Founder, Interior Fox (opens in new tab).
With this in mind, let's discover what's not worth having or adding to these little lounges.
Small living room styling mistakes
From opting for bulky furniture to choosing the wrong side of rug, discover the small living room styling mistakes which we're helping you avoid.
1. Not planning the furniture out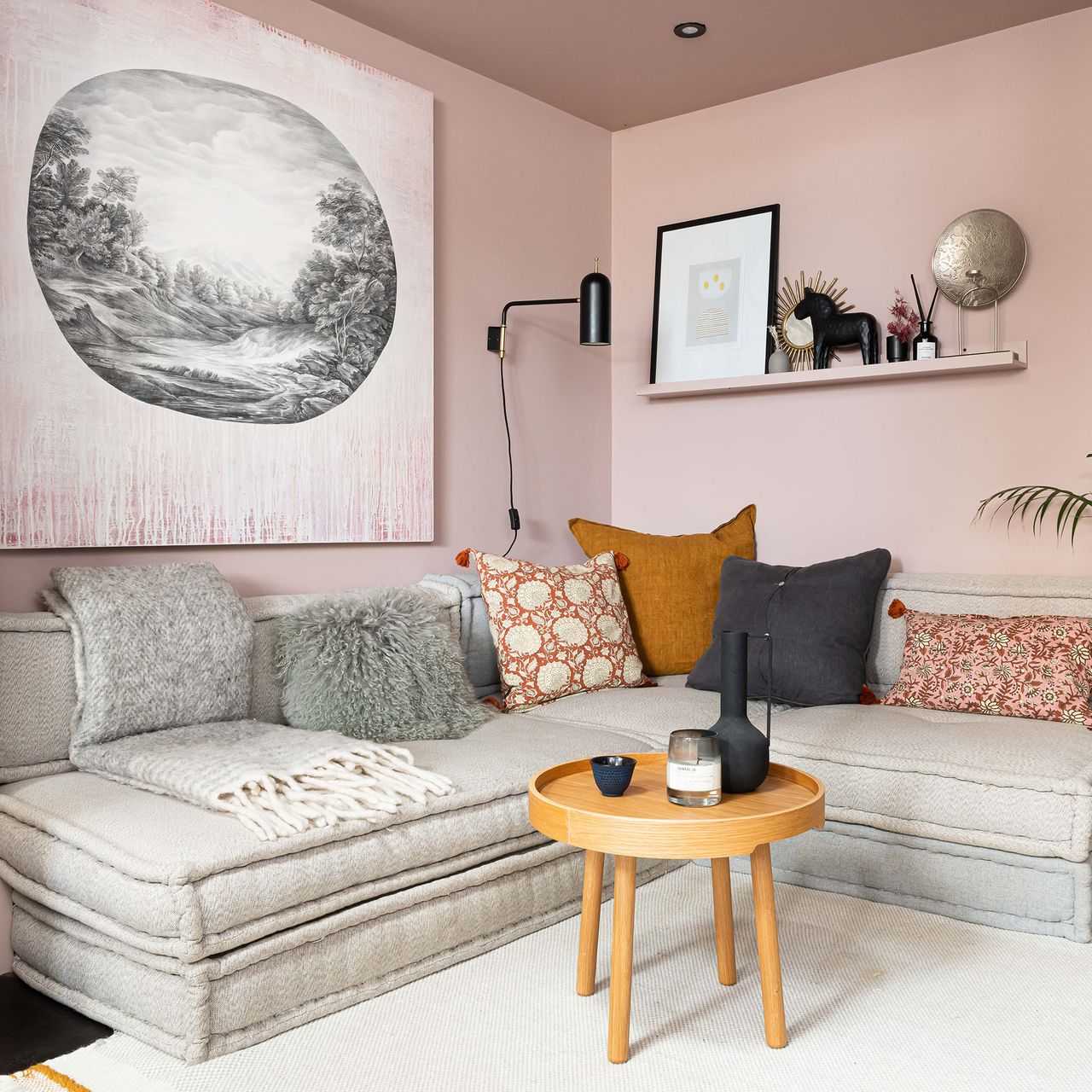 'To achieve the best layout and design for a small living room, planning is key,' advises Mariana Ugarte, Co-Founder, Interior Fox. 'Maximise space in a compact living room by first considering the key pieces of furniture.'
'Purchasing furniture without considering shape, size and function can be a costly mistake,' continues Mariana. 'Before investing in furniture like sofa ideas for small living rooms, measure and measure again. Consider where you will place it and how it will sit alongside other key pieces in the room'
When it comes to what should go where in your plan, there are a few rules of thumb to bear in mind.
'Avoid pushing furniture up against the walls,' explains Juliette Thomas, Founder, Juliettes Interiors (opens in new tab). 'Leave enough space around your furniture so you and your guests can walk around. Leaving a vast open space in the middle of the room actually makes the room feel more enclosed. Instead, opt for comfortable furniture that is closer together, gathered around a central point like a large textured rug or a coffee table.'
2. Not considering the importance of mirrors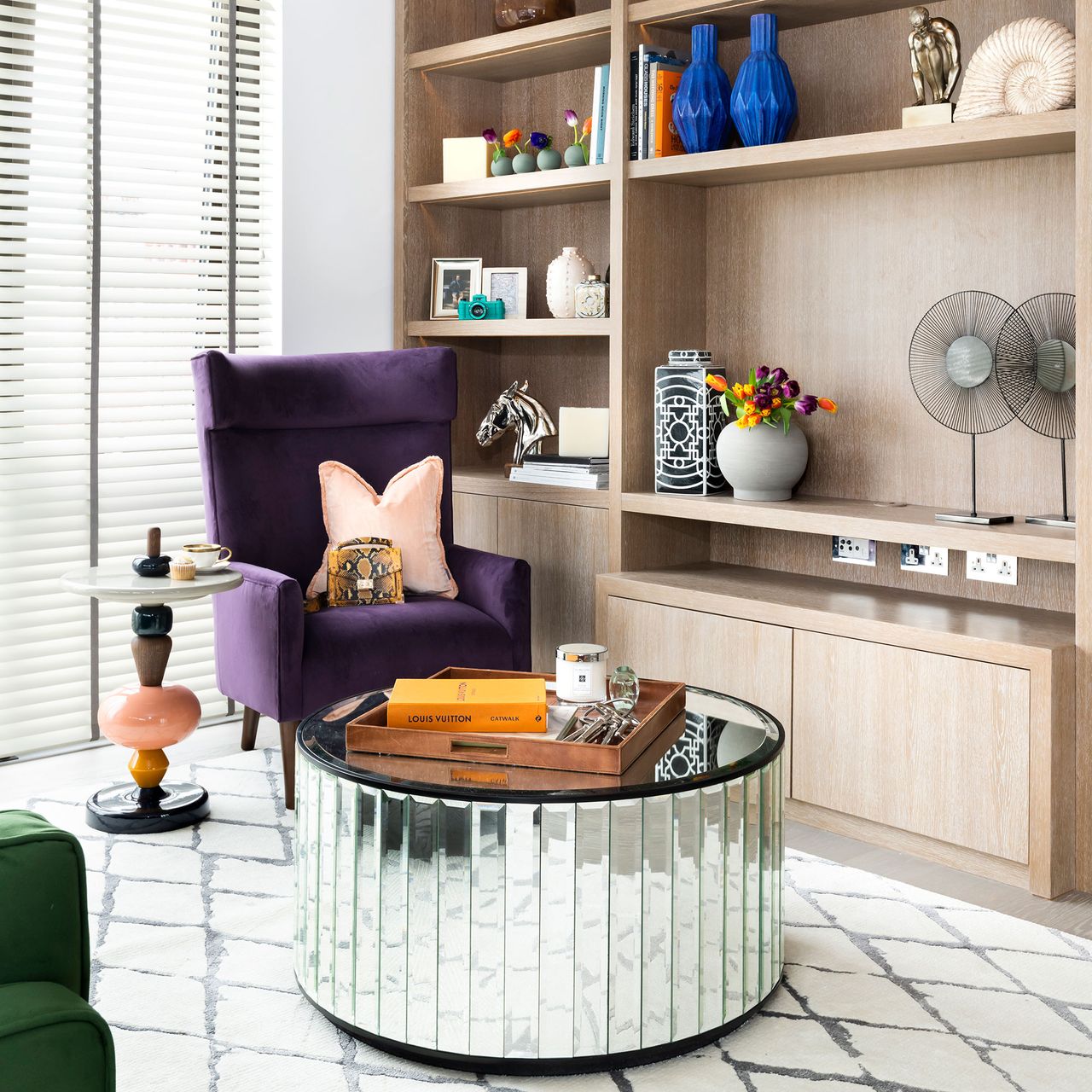 You may have heard it before, but we really can't stress this one enough. One of the small living room styling mistakes to steer clear of is not including any, or enough, mirrored surfaces.  
'Consider adding a large size mirror or a Venetian style mirror to create the illusion of a bigger space,' suggests Juliette from Juliettes Interiors. 'You can never go 'too big' on a mirror even when the space it's small; its reflective power will make the room feel brighter and more luxurious.'
'Strategically placing living room mirror ideas where the light naturally falls is one of the oldest but best tricks in the book,' agrees Jenna from Interior Fox. 'It enhances the natural light and makes the room appear much larger and brighter.'
3. Choosing bulky furniture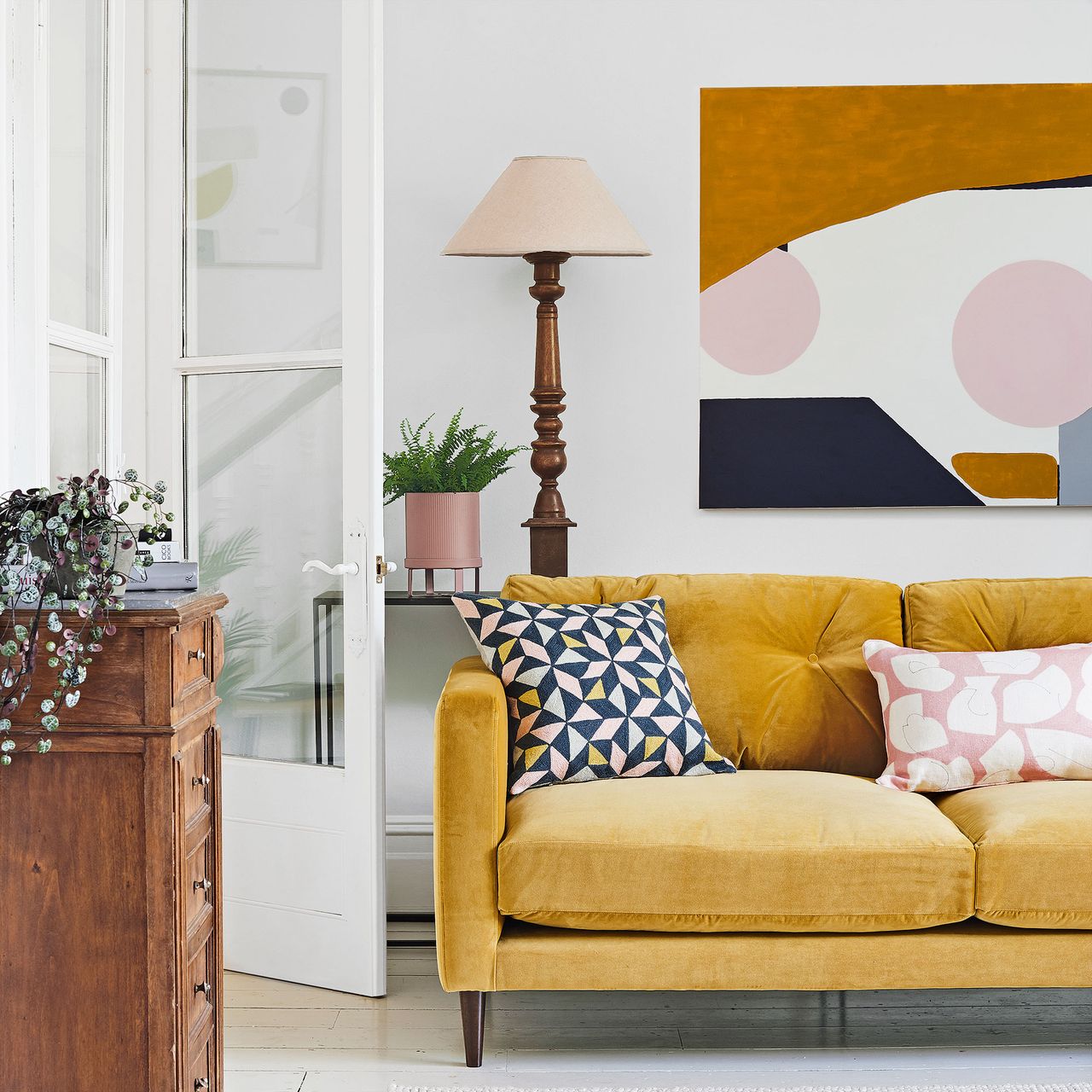 'Avoid large, bulky pieces of furniture that take up huge amounts of space and block potential walkways,' warns Ann Marie Cousins, Founder, AMC Design (opens in new tab). 'Always make sure to measure the room before you order anything.'
'Mark the pieces out on your floor with masking tape or boxes. That way you can easily move the design around without committing to ordering anything.'
This technique is especially great for modern small living room ideas, as larger, bulkier items tend to feel more at home in more traditional settings.
4. Not finding the perfect pattern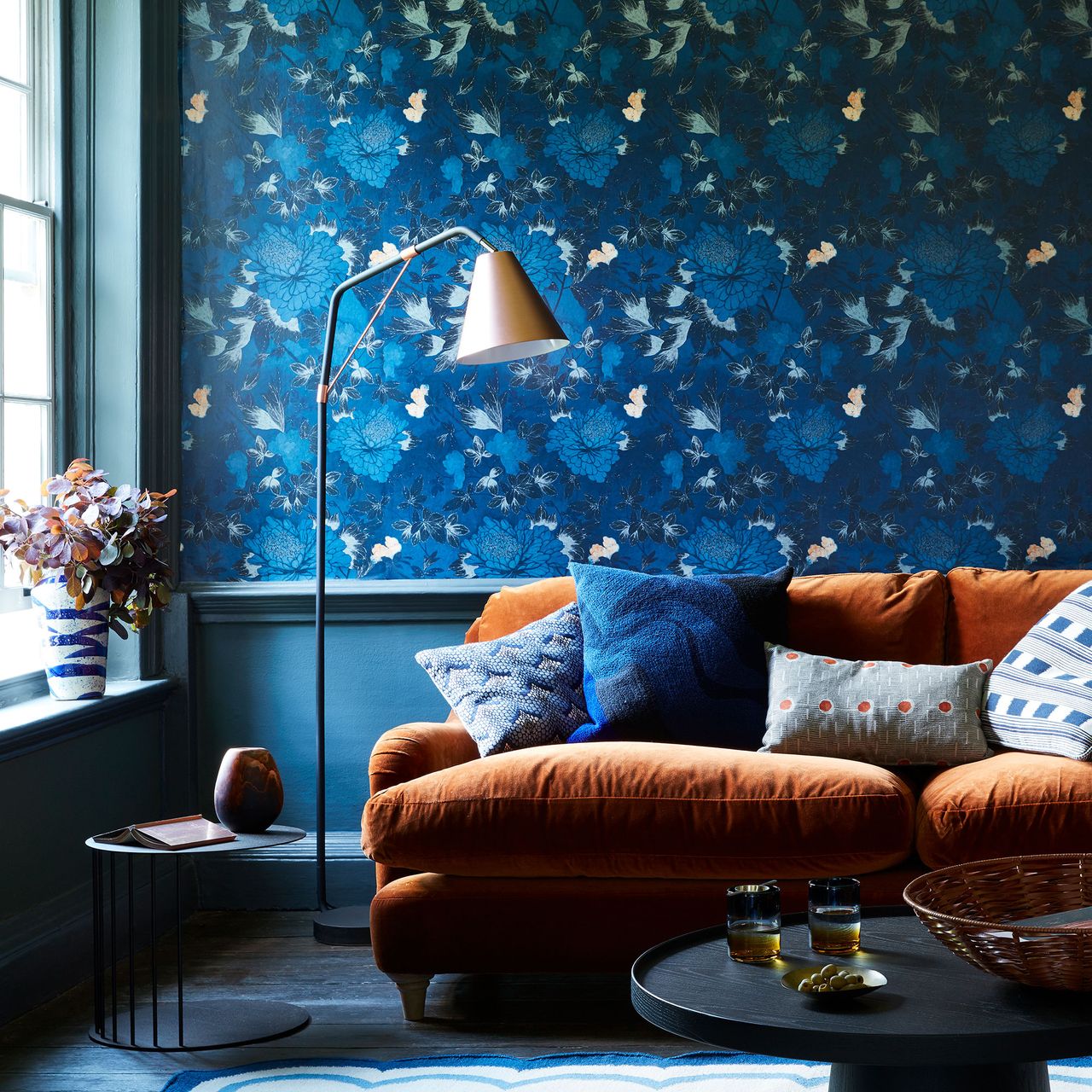 Pattern – be it on fabrics, upholstery or wallpaper – can absolutely work in petite spaces. Avoid making small living room styling mistakes by taking a little extra care when choosing your design and scale.
'Living room wallpaper ideas have a huge impact on the mood of a room so it's key to get the design right,' says Martin Waller, Founder, Andrew Martin (opens in new tab). 'Choose lighter hues, such as grey to create the illusion of space.'  
'When it comes to using pattern, large-scale designs work best when used on larger, statement pieces such as a dramatic pair of curtains,' adds Debbie Leigh, Design Manager, ILIV (opens in new tab). 'In smaller spaces, using a pattern on curtains or pieces of furniture will add drama without overcrowding the room.'
5. Opting for single use furniture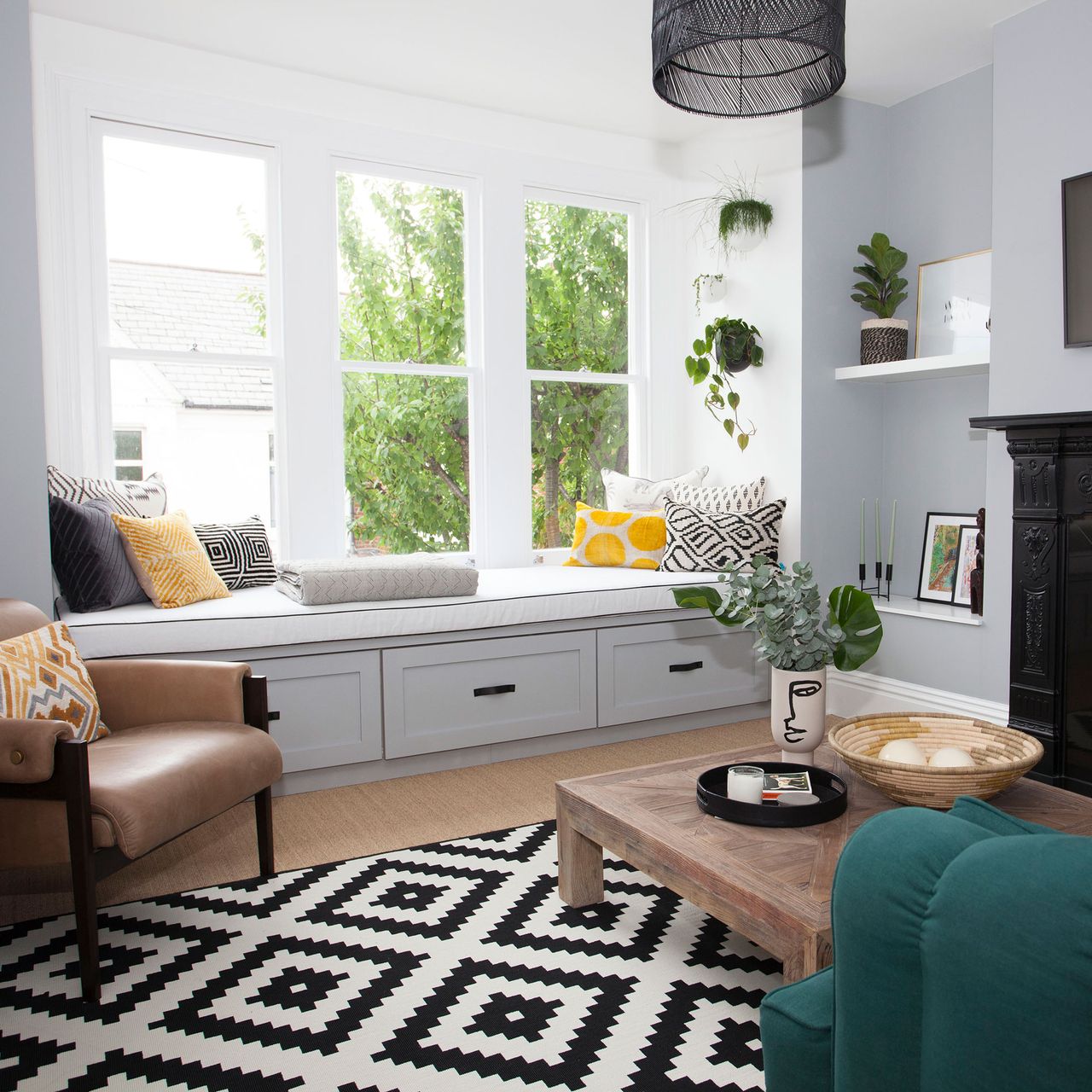 One of the common small living room styling mistakes is choosing furniture which only does one thing. 
'Avoid pieces of furniture which have only one purpose,' advises Jenna from Interior Fox. 'Instead choose multi-functional pieces such as storage ottomans that provide an extra seat or a nest of tables which can easily be tucked away when needed. You will save on much needed floor space and limit the risk of walking into cumbersome pieces of furniture which are rarely used.'
'If you are limited on space, keep the room as clear as possible with as fewer pieces of furniture as possible,' agrees Ann Marie from AMC Design. 'This means excluding home office desks and any unnecessary chairs or tables which you don't regularly use.'
6. Painting with too dark a tone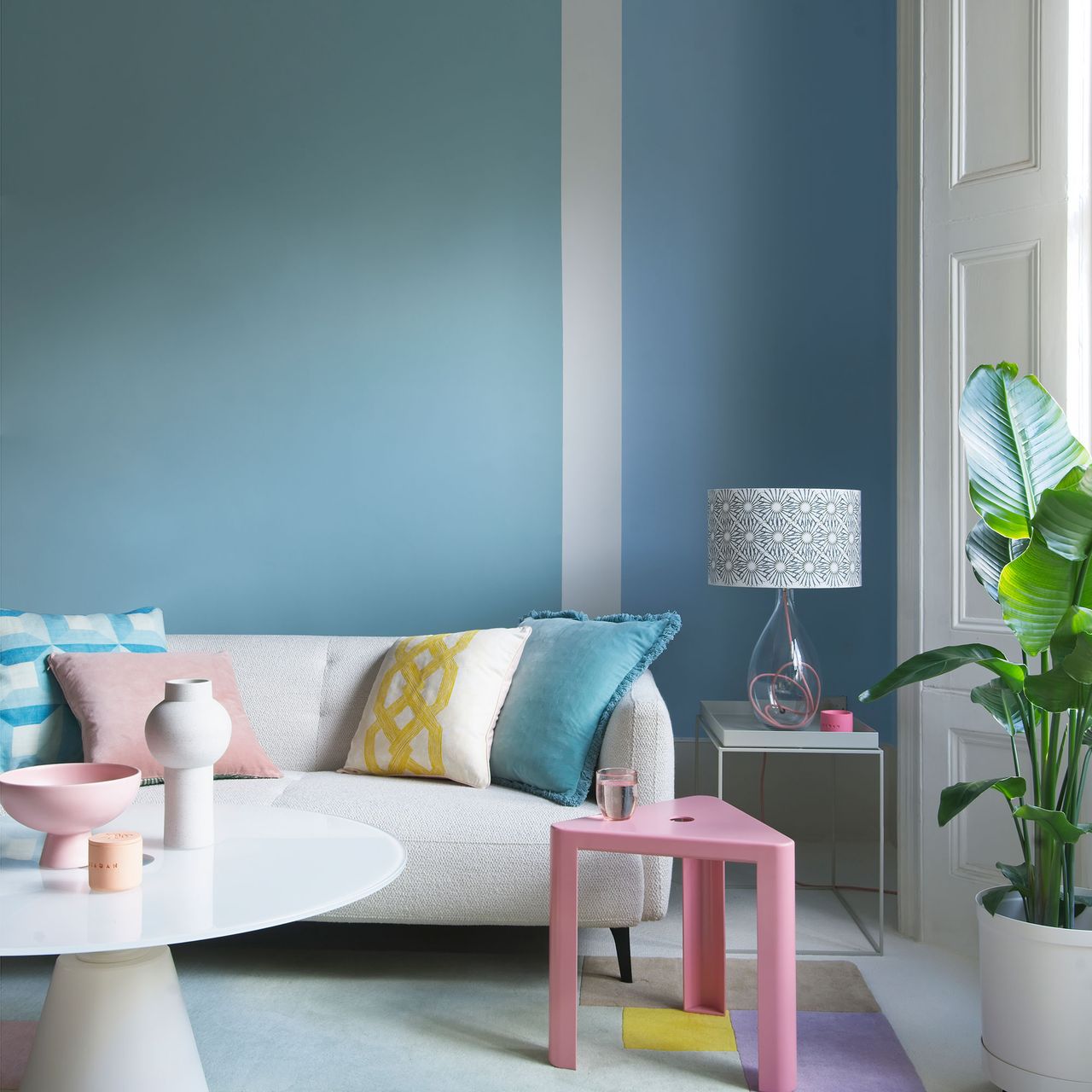 While smaller rooms can absolutely pull off deep, dark colours, it's best to look in another direction if you're hoping to increase the sense of space with living room colour schemes. 
'When designing for small living rooms you want to create a space that feels open and bright,' says Poppy Peace, Group Creative Director, Milc Interiors (opens in new tab). 'A light colour palette will ensure the room does not feel enclosed or dark.'
'The paler the tone, the more it will reflect the available light, the darker the tone, the more light it will absorb,' explains Justyna Korczynska, Senior Designer, Crown. 'At the extremes, white will make a room look more spacious, and black bring the walls visually inwards.'
'This rule applies to all colours. So a pale grey would be good if you wanted to make a room look larger, a deep charcoal would make it appear smaller. Having said that, a dark colour used in a small room can be really effective and dramatic.'
7. Neglecting to build pieces in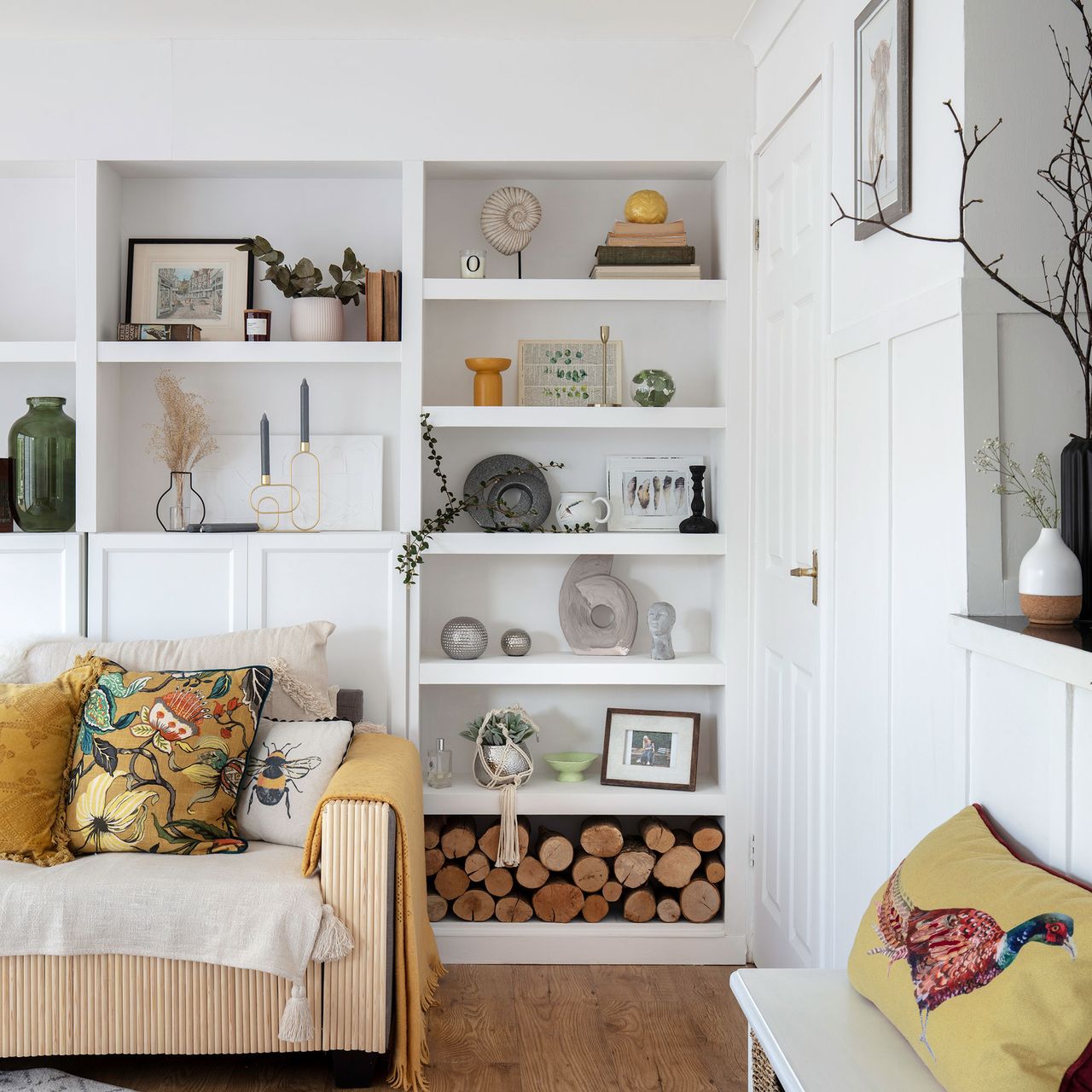 Save room in your small space by building in whatever you can. Think living room shelving ideas, window seats and media units.
'Bespoke furniture pieces are also ideal for a small living room as they will help to make the most of every inch of available space,' explains Adam Brown, Director, The Painted Furniture Company (opens in new tab).
'Creating furniture for your living room that is designed to fit seamlessly means that every inch of the room is catered for,' adds Mariana from Interior Fox. 'Create a window seat in a bay window with additional storage below.'
'Try a built-in cabinet or low-profile media unit for a stylish alternative to a tv stand. This provides ample amount of space to stow away items while creating a clutter-free living room to relax in.'
8. Having too small a rug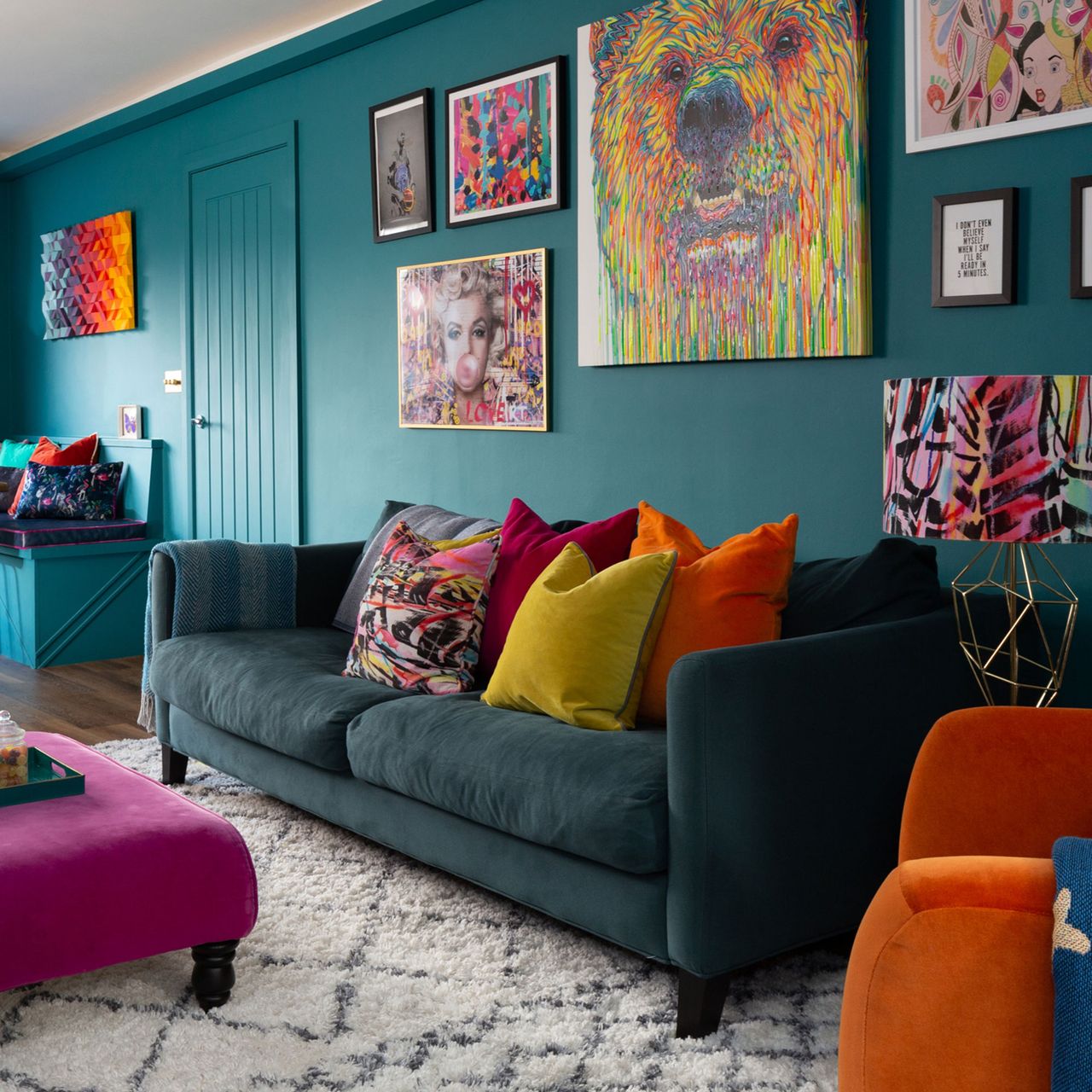 'If you are incorporating a rug into your living room flooring ideas, this is the perfect item to arrange your furniture around,' says Ann Marie from AMC Design. 'Don't choose one that is too small and therefore looks like an island in the middle of the room.'
'The furniture all needs to sit on the rug as this will give the illusion of space,' continues Ann Marie. 'Be as brave as you can with your rug as it is often the first thing that people notice. Plus it's something you can always update later.'
9. Not planning the lighting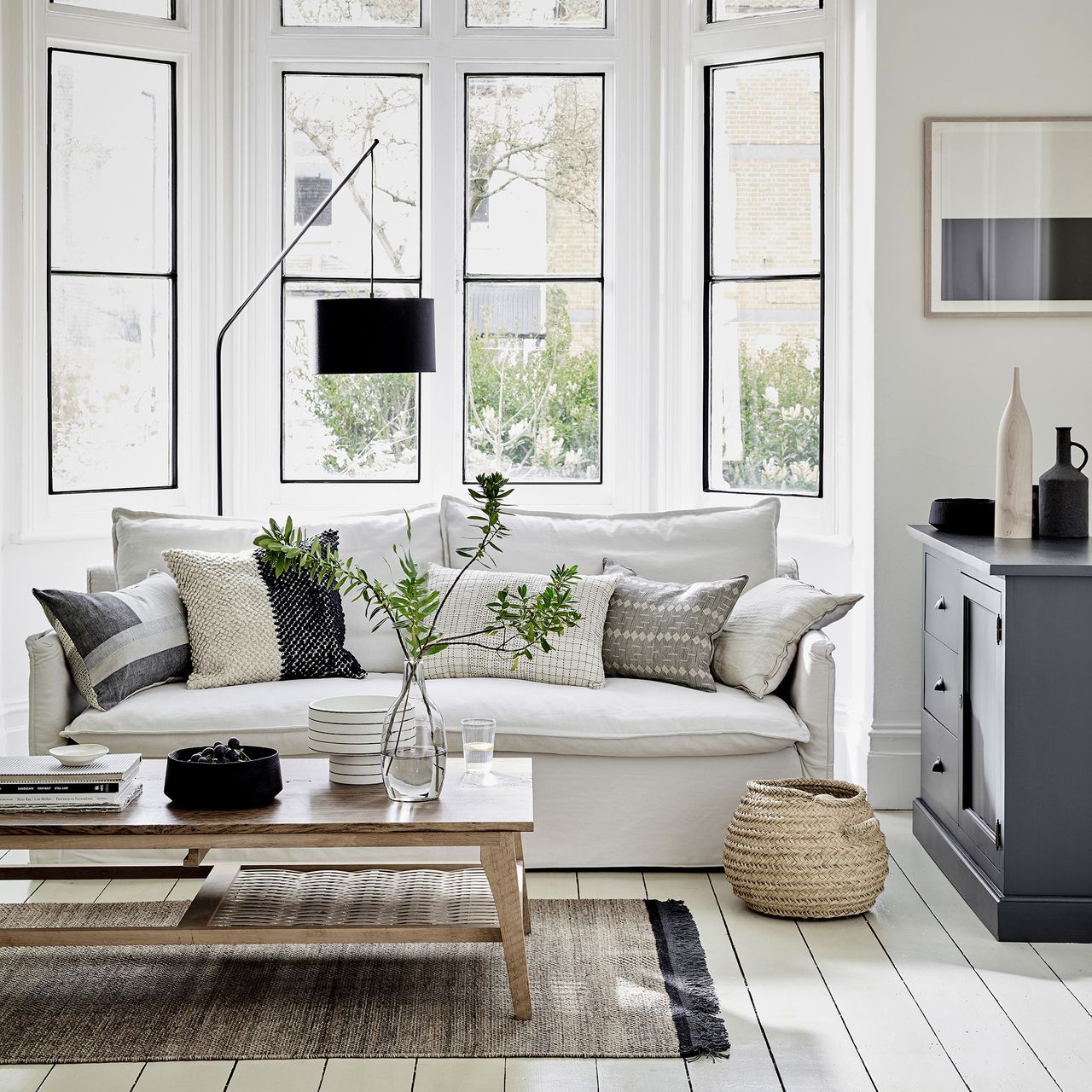 'Lighting is often overlooked when it comes to interior design,' notes Marketa Rypacek, Managing Director, Industville Ltd (opens in new tab). 'However even the most luxurious room can be ruined with poor lighting.'
'Often the biggest mistake is made by thinking all one needs is a single overhead light for a room, but lighting should be approached in a layered manner. This ensures all the architectural and design features of the room are highlighted, from ceiling to floor.'
'The number one consideration for lighting any space, no matter what the size, has to be a dimmer switch,' adds Marketa. 'Dimmer switches are a quick and cost-effective way for small living room lighting ideas. They offer multiple lighting levels in a space and allow you to set the tone and change the atmosphere of the living room instantly.'
10. Leaving your skirtings bare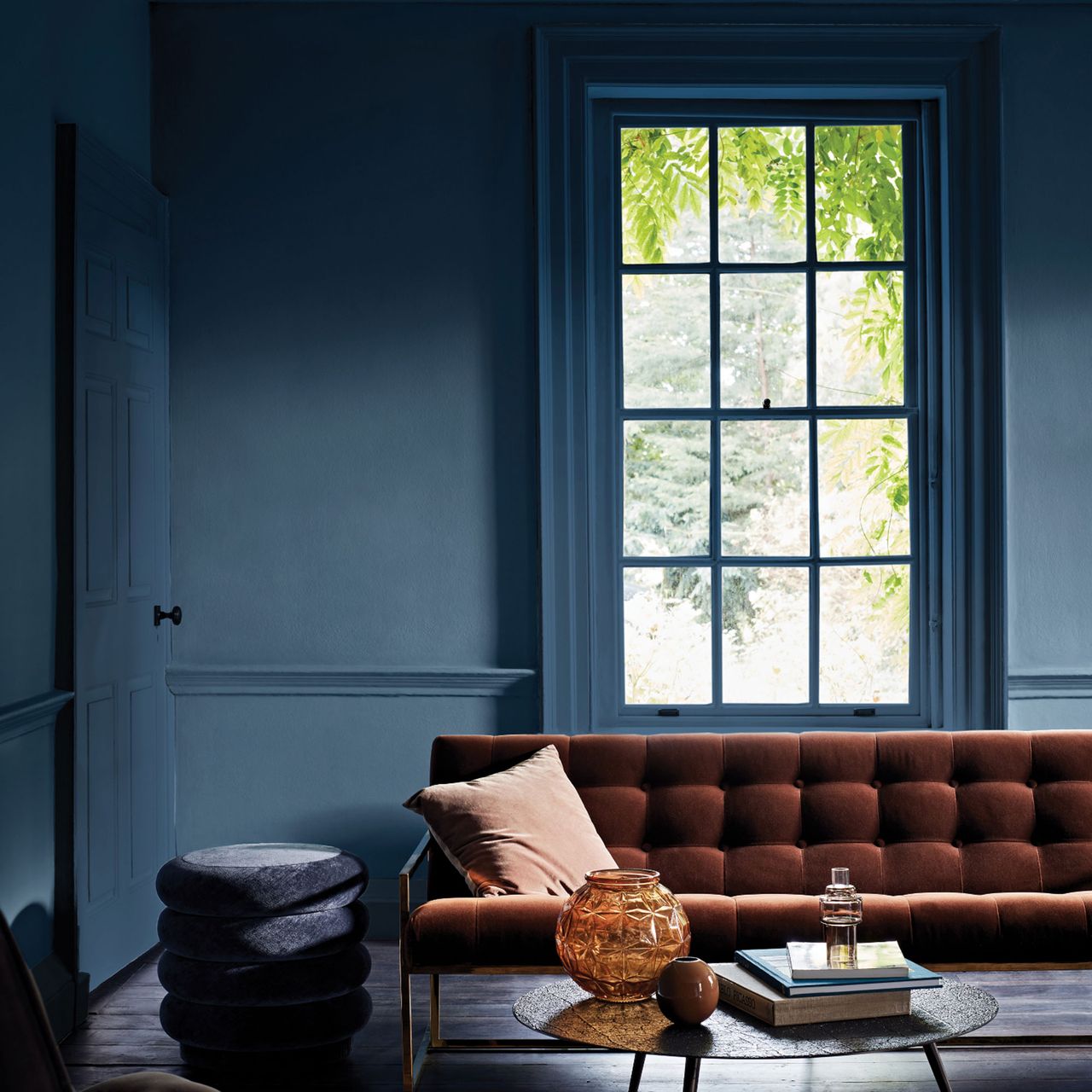 'Painting skirting boards and window frames to match the wall colour is a simple but stylish touch for the living room,' advises Justyna from Crown. 
'Not only does this create a contemporary, monochromatic look, but this type of living room paint ideas is also an easy way of creating the illusion of bigger walls, making the room as a whole appear more spacious.'
How do you arrange things in a small living room?
'Arranging furniture will depend on how you use the room,' advises Juliette Thomas, Director, Juliettes Interiors. 'If it is a living space meant only for relaxing, watching TV and catching up with friends and family, opt for a large, eye-catching rug and position your furniture around it.'
'If the room is also used as an office, make sure you allocated a corner of the room to your desk and other necessities,' continues Juliette. 'But it is important to zone it and keep the theme of your interiors running through every angle of the room.'
'It's important to ensure that your home works for you, rather than you work for your home,' adds Danni Burroughs, Head of Product, Snug (opens in new tab). 'Ideally you want enough seats for each member of the family to have a place to sit back and relax. But if space is tight, a great alternative is a 1.5 seater snuggler that offers all of the comfort of a regular sofa.'
Why shouldn't you push your couch against the wall?
'With a small living room, it's worth taking time to really plan where your furniture is placed,' advises Adam Brown, Director, The Painted Furniture Company. While it may be tempting to push your sofa against the wall to allow more floor space, this isn't actually a good idea.
'Although the available space may limit your options, the right layout can make a space seem larger than it actually is,' explains Adam. 'Avoid the obvious solution of pushing everything back against the walls, instead allow space around key pieces of furniture.  This will allow the eye to see more floor space, making your room seem bigger.'
Related Posts