Get to know the Furniture Family of Saskatchewan
"Our goal has always been to give our customers the best quality at the best prices," says Kristy Sorensen, general manager of Furniture World.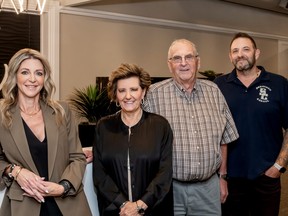 Article content
It's a business philosophy that has served the family well over the years — as well as its customers.
Article content
 From modest beginnings, Furniture World has grown to become one of Saskatchewan's largest — and most prominent — home furnishings ventures, with retail outlets covering the province.
"Our goal has always been to give our customers the best quality at the best prices," says Kristy Sorensen, general manager of the family-owned venture.
 Indeed, it's a concept that Furniture World has long embraced, offering a world of choice to consumers at affordable prices — without sacrificing quality or style.
It all comes down to the company's retail model that has been there from the very beginning: by lowering margins — including overheads and non-commissioned sales — they can pass along those savings to customers.
"That's been the way we've done business, and it's worked," says Kristy.
Article content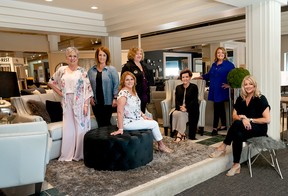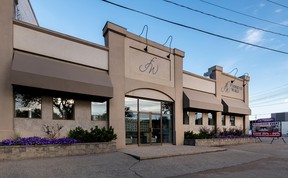 Today, Furniture World has 150,000-square-feet of showroom and warehouse space province-wide, with locations in Saskatoon, Lloydminster and Regina.
Most of its brands are Canadian, such as Canadel, Jaymar, Palliser and Decor-Rest, along with well-known North American brands, including La-Z-Boy. This allows Furniture World to maintain a high manufacturing standard, with furniture built to stand the test of time.
"We pride ourselves in partnering with major Canadian and North American manufacturers," says Kristy. "The majority of our companies are Canadian manufacturers that we've built relationships with. A lot of the product lines we carry are exclusive to us — only available at Furniture World."
Article content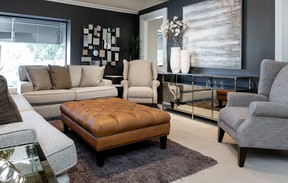 Building relationships
Furniture World has been a Saskatchewan mainstay for more than 30 years, established by Kris and Julie Sorensen. After 25 years in Meadow Lake, the family opened Furniture World in Saskatoon on Second Avenue North in 1990. It opened a sister company in Lloydminster in the early 2000s, expanding to include a second Saskatoon location, called Sorensen Furniture, in 2014.
Most recently, the family launched a retail outlet in Regina, opening in 2020 in the old Alford's Furniture location, at 1601 – 4th Avenue. The Regina store features a 30,000-plus square-foot showroom, showcasing all the leading brands found in Furniture World Saskatoon.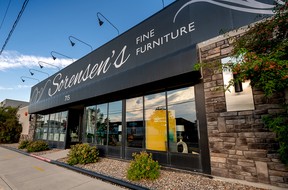 Family-owned and family-operated, the company has focused on slow and steady growth. Kris and Julie continue to be active in its operations, with their son and daughter Jeff and Kristy, also fully hands-on in the business.
Article content
Kristy says relationship building — with clients as well as manufacturers — has been a cornerstone of their success. Word-of-mouth has been a big part of its customer base.
"We have a lot of second and third generation customers coming here," she says. "The relationships we've built with our customers is probably our biggest asset. They get to know the family — we've never been behind-the-scenes people. They tend to become our friends as well as our clients."
Many staff members have been with the company for more than 20 years — some up to 30 years.
"When they come into Furniture World, they see the same faces, and see the family present," says Kristy.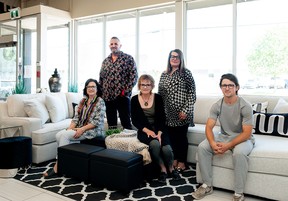 Transforming spaces
Blending comfort and function with sophisticated style, Furniture World has all the right pieces to complement any space — from classic to contemporary.
Article content
Whether it's an upgrade, renovation, downsize or new build, Furniture World has it covered.
"We can accommodate any style, any look," says Kristy. "We do a lot of package sales. When people come in and they want to do their whole home, we have the ability to help the customer pull it all together."
That comes back to its dedicated sales and support team, many experienced with home design and décor. On-site visits are available to assist in choosing the right pieces to accent the home.
"We can customize to your room and colours," says Kristy. "And we carry a very large inventory, so people don't have to wait."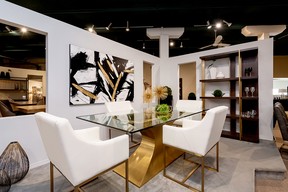 Home delivery and full set-up are other convenient amenities offered by the company.
It's that attention to detail, along with its customer-centric approach, that has made Furniture World a household name in the province.
Indeed, in a world of big-box outlets, Furniture World has long established a niche in the Saskatchewan market.
"We run a little bit different in that we offer very good pricing, and we always offer the best value we can," says Kristy.
"We've invested in Saskatchewan, we live year-round in Saskatchewan," she says. "We have permanent roots here."
For more information, visit furnitureworldsaskatoon.com.
This story was created by Content Works, Postmedia's commercial content division, on behalf of Furniture World.
Related Posts