Come home to cottage style
Make the most of your time away with simple yet luxurious comforts.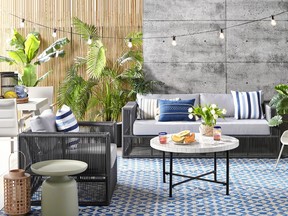 Article content
Over the summer, many people will visit a cottage, chalet or cabin — those special places that epitomize easy living and help us unwind in nature. For many, it's a ritual, and for others it's a newly discovered way to escape the city, breathe fresh air, soak up the sun and have fun in the water or on a hike.
Article content
Whether you're roughing it or are treating yourself to a stylish five-star cottage, having a few comforts of home can make your time away a little cosier. This column is packed with ideas on how to make cottage life more comfy. So, load up the trunk of the car with mod cons from home for cooking, lighting and even furniture, and then relax, cottage style!
Let there be light
One luxury of cottaging is spending time outside at night beside a campfire or playing cards on the deck in the cool air. I always like to bring a few forms of lighting with me just in case. On my packing list is a lantern for late-night excursions to the dock for stargazing, tabletop candles for lingering over long dinners that stretch past dusk, and a set of LED lights to string along a deck rail or even hang in a cottage bedroom.
Even better, opt for LED solar-powered string lights. I found a very stylish set at HomeSense for the best price of under twenty dollars. The solar panel gathers up the rays during the day and in return adds sparkle to your nights. Hang them through the tree branches and they'll twinkle like stars all night long.
Deck-side service, please
Fine deck-side dining is that much better when you don't have to run in and out of the cottage for food and drinks. Keep a few conveniences close by. Fill a cooler with ice to keep a salad cool, a bottle of champagne chilled or bottled water close by.
Of course, the grill is one of the smartest ways to keep the heat out of the kitchen, but you might want to add an equally convenient small appliance for variety. The Black and Decker Family-Sized Electric Griddle combines fast and even heating (from warm to 400 F), with variable temperature controls, making it easy to cook up traditional breakfast treats or just keep snacks warm.
Article content
Plus, the large non-stick surface and slide-out drip tray make cleanup a breeze. Add an extension cord and voila! Fry up your eggs and bacon at brunch or keep those S'mores warm while stargazing, all while maximizing your time in the great outdoors.

Sitting pretty
This idea might at first seem excessive, but how about bringing your own furniture to the cottage? The pros: you ensure your comfort and guarantee that everyone's got a place to sit when there's a crowd. I'm not talking about renting a U-Haul and filling it full of your basement furniture, I'm talking about easy-to-transport furniture that can add a casual vibe to a cottage bedroom, living room, deck or dock.
Look for stylish inflatable furniture with easy-care slipcovers. How about a beanbag chair? I love coloured ones for each kid to ensure they have their own spot to sit on movie night — no more fighting over the sofa.
I've recently seen lawn chairs that you can carry on your back — essentially a lawn chair that folds up with straps that allow you to tote it from inside to out. Check out Eddie Bauer's Backpack Chair, which offers many positional adjustments for serious reclining, an adjustable pillow and its own six-can cooler below the seat, so once set up, you can sit back and relax. Got furniture? Lets travel!
Do you have a decor dilemma or want to give feedback? Follow and contact Karl on Instagram at Karl Lohnes.
— Karl Lohnes
Related Posts